Overview
These webpages provide guidance, application details, and timelines for the Biosciences Area's Laboratory Directed Research and Development (LDRD) submission process. The LDRD program encourages innovation, creativity, originality, and quality to keep Berkeley Lab's research activities and staff at the forefront of science and technology.
LDRD projects should have one or more of the following characteristics:
Advanced study of hypotheses, concepts, or innovative approaches to scientific or technical problems.
Experiments and analysis directed towards "proof of principle" or early determination of the utility of new scientific ideas, technical concepts, or devices.
Conception and preliminary technical analyses of experimental facilities or devices.
As outlined in the Call for Proposals, the Lab's FY2024 LDRD program will have three funding tracks:
Successful proposals will align with some or all of the following:
Project Periods
A standard LDRD is 24 months; projects less than 24 months are encouraged!
Any requests for a standard LDRD beyond 24 months (up to 36 months) will need to qualify for exception and will be reviewed as a new LDRD.
An Early Career LDRD can be up to 36 months.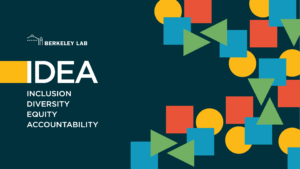 IDEA Statement
Successful proposals must include thoughtful Inclusion, Diversity, Equity, and Accountability (IDEA) Plans. The IDEA statement should:
Describe past experiences and activities (or background) that have made you aware of challenges faced by historically underrepresented populations. Examples:

Mentorship of students, post-docs, staff or researchers from underrepresented groups.
Service on a committee or board that focused on diversity, equity, and/or inclusion, describe the committee's accomplishments and your role in helping achieve them.
Other activities such as a specific conference or organization, student retention or outreach activity, course development to reach a specific group, outreach to a local school, or work with a diversity-related non-profit.

Describe future plans to advance diversity, equity, inclusion and accountability, including:

The role you envision having and what you would like to accomplish in the next two years.
Who would you like to engage in your efforts, and how would you plan to engage them.
Be as specific as possible, but realistic in terms of your effort and time commitment.

Reflect the diversity of California, as well as meet the educational needs and interests of Berkeley Lab's diverse population.
Biosciences Area FY24 LDRD Town Hall
Biosciences Area FY23 LDRD Town Hall
Showing Off Your Science: Preparing a Compelling LDRD Presentation