The Biosciences Area is a proud champion of Berkeley Lab's mission to promote, advance, integrate, and operationalize inclusion, diversity, equity, and accountability (IDEA) approaches and best practices within all levels of the organization. We view IDEA as an important part of the Lab's stewardship efforts, as well as a vital part of career development at Berkeley Lab. To learn about and attend upcoming IDEA-relevant events, go here. To learn how to get involved with IDEA efforts in the Area, go here.
Biosciences IDEA committee
The Biosciences Area IDEA committee is composed of representatives from the Biosciences Divisions and User Facility. It meets monthly to discuss current Lab initiatives and Area plans.
Current members
Massie S. Ballon
Communications
& Outreach Manager, JGI
Carolina Araujo Barcelos
Scientific Engineering
Associate, BSE
Tina Clarke
Sr. HR Division
Partner, JGI
Ashley Dawn
Sr. Administrator,
MBIB
Alex Degg
Sr. HR Division Partner,
BSAO & BSE
Thomas Eng
Research Scientist,
BSE
Michael Espinosa
Senior Administrator to ALD
Eltra Green
Business Manager,
EGSB
Nikki Humphreys
Area Operations Deputy
Lauren Jabusch
Program Developer,
SPDG
Katrina King
Assistant to Division Director,
EGSB
Billy Poon
Research Scientist,
MBIB
Jenny Quan
Biosciences HR Partner
Sandy Roth
Sr. HR Division
Partner, EGSB & MBIB
Area IDEA activities
Check the Biosciences Area Calendar, which lists upcoming IDEA-relevant events organized by Lab groups, including:
The Area's Employee Resource Group (ERG) Highlight Series: Presentations by members/reps of each of the Lab's nine ERGs about their goals, what projects they have been working on, and ways to get involved with these groups.
Workshops and Webinars hosted by the University of California and the U.S. Department of Energy
Division and User Facility IDEA committees:
Get involved
Sign up to be part of an IDEA committee at the Area or Division/User Facility level or to help promote events. Committee members can volunteer to lead or participate in initiatives.
Biosciences representatives to the Lab-wide IDEA committees: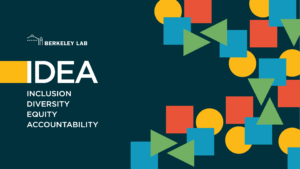 Lab Resources
IDEAs in Action: Trainings and toolkits for supervisors and staff to help bring IDEA principles to your team.
One Minute for IDEA: Easy ways to bring IDEA principles to your team meetings.
Participate in Lab Diversity Outreach Efforts
Berkeley Lab has a series of programs through which staff can conduct outreach on behalf of Berkeley Lab to diverse audiences (through activities such as scientific, technical or career presentations), including: