Biosciences researchers are among the recipients of new funding for research efforts to reduce carbon emissions while producing bioenergy and understanding the role of microbiomes in the biogeochemical cycling of elements like carbon. In the September 13 DOE announcement, Secretary of Energy Jennifer Granholm said that the research projects will "advance the boundaries of biotechnology and support the emergence of a thriving U.S. bioeconomy that creates good-paying jobs and helps us meet our climate goals."
Can Biofuel and Bioproducts Be Made from Micro-alga?
Sabeeha Merchant, faculty scientist in the Environmental Genomics and Systems Biology (EGSB) Division, will lead a project that includes researchers from University of California, Berkeley, the California Institute for Quantitative Biosciences (QB3), and the Biosciences Area. Merchant, who is also a professor in the Departments of Plant and Microbial Biology (PMB) and Molecular and Cell Biology at UC Berkeley, will explore the use of a photosynthetic micro-alga to develop biofuel and bioproducts.
Her team includes Kris Niyogi, faculty scientist in the Molecular Biophysics and Integrated Bioimaging (MBIB) Division and PMB professor at UC Berkeley; Crysten Blaby-Haas, staff scientist in the Molecular Foundry and the Joint Genome Institute (JGI); Trent Northen, EGSB Deputy Division Director; and Setsuko Wakao, MBIB research scientist. They are joined on the project by Mary Lipton of Pacific Northwest National Laboratory in Washington and Nanette Boyle of Colorado School of Mines.
The team will help lead efforts to identify new sources of renewable energy and devise bio-based strategies to produce chemicals currently obtained from petroleum. Their work could potentially reduce dependence on fossil fuels and improve energy security while advancing efforts to reach a net-zero carbon economy by 2050.
According to Merchant, the project aims to transform Auxenochlorella protothecoides, a photosynthetic micro-alga, into an essential component of the sustainable bioeconomy by harnessing its potential to capture and convert carbon dioxide into biofuels and bioproducts. The micro-alga's naturally high capacity for lipid biosynthesis and availability of genome engineering tools make it a promising prototype platform for biomanufacturing.
"Ultimately, this research will generate genome-engineered strains that efficiently generate biofuel precursors from sunlight while sequestering atmospheric carbon dioxide," Merchant said.
Transforming Carbon Dioxide Into Chemicals
Biological Systems and Engineering Division staff scientist Héctor García Martín and JGI staff scientist Yasuo Yoshikuni are involved in another project given the green light under the Renewable Bioenergy and Biomaterials Production research funding opportunity. They are part of a team led by James Carothers of the University of Washington that will engineer microbial genomes to transform CO2 into high-value chemicals. The 5-year, $15 million grant aims is to advance fundamental research into large-scale, bio-based chemical production that is greener and produces better alternatives to petrochemical-based products. Martin and Yoshikuni will bring machine learning and genome engineering expertise to the group, respectively. These are just two aspects of the multidisciplinary effort that will draw on CRISPR gene-expression programs, single-cell RNA sequencing, data-driven design, and carbon-conserving pathway engineering.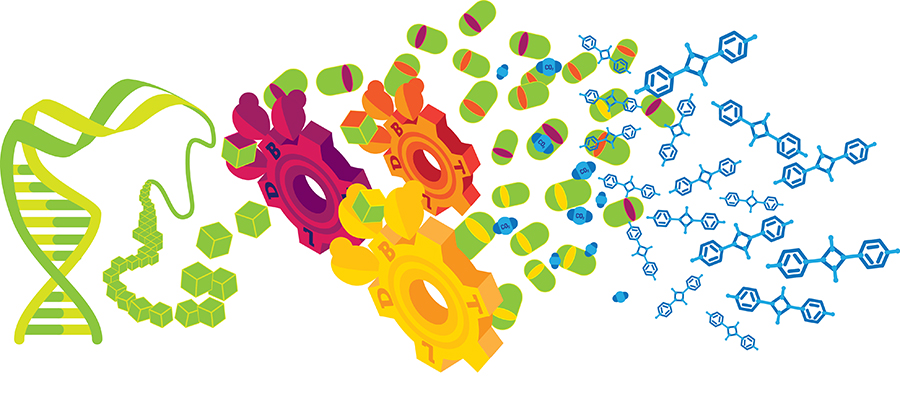 The Role of DNA Viruses in Soil Microbiomes
There were two Systems Biology Enabled Microbiome Research awards made to EGSB investigators. Staff scientist Vivek Mutalik will join a multidisciplinary team led by Matt Sullivan at The Ohio State University. In addition to Sullivan and Mutalik, the grant, "From viromes to virocells: dissecting viral roles in terrestrial microbiomes and nutrient cycling," will support researchers from Case Western University, Oak Ridge National Laboratory, Ashland University, Université Laval in Canada, and University of Arizona, and includes a collaborator from Stanford University.
The key goal is to illuminate the roles of mobile genetic elements and viruses in soil ecology at Stordalen Mire, a model ecosystem that lies in the subarctic region of northern Sweden. This builds on prior work there focused on DNA viruses, and broad microbiome/ecosystem investigations by DOE's IsoGenie Project.
Enhancing Soil Carbon Storage Through Plant-Microbe Interactions
Volatile organic compounds (VOCs) are a significant carbon (C) pool produced via plant and microbial metabolism, but their contributions to soil organic carbon formation are not well understood. A new project led by Laura Meredith at the University of Arizona, with Malak Tfailly (also at the University of Arizona) along with collaborators Eoin Brodie, Romy Chakraborty, and Kolby Jardine of the Earth and Environmental Sciences Area (EESA) at Berkeley Lab, and Jordan Krechmer of Aerodyne Research, Inc., will develop new approaches to quantify how plant and microbial VOCs, directly and indirectly, contribute to soil C stabilization, both in the rhizosphere and throughout the soil profile.
This project will also collaborate with the Belowground Biogeochemistry Science Focus Area, which is led by EESA senior scientist Margaret Torn, to explore the role of VOCs in soil carbon loss in response to deep soil warming at Blodgett Forest Research Station. Brodie, Chakraborty, and Jardine have secondary appointments in the EGSB Division.