A Q&A with researchers who are focused on revealing the fine details of photosynthesis
A team of scientists from Berkeley Lab's Molecular Biophysics and Integrated Bioimaging (MBIB) Division specialize in investigating fundamental scientific questions that, when answered, could lead to world-changing advances in technology, medicine, or energy.
One of these big questions is how, exactly, photosynthesis occurs. The enzyme-based process of converting carbon dioxide into food, using water and sunlight, is literally the foundation of life on Earth – and understanding the reaction at an atomic level could lead to vast production of renewable fuels made from greenhouse gases sucked out of the air.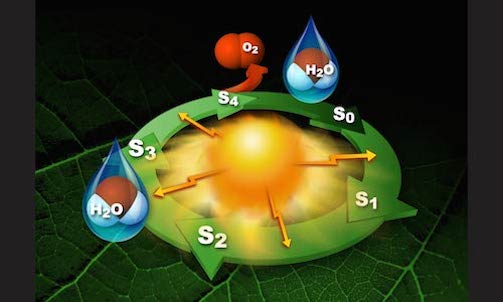 The team has been uncovering precise, step-by-step details of photosynthesis for years. They have just revealed another aspect, which was published earlier this month in Nature Communications. Their current work focuses on photosystem II (PS II), the enzyme that splits water into oxygen gas, hydrogen ions, and the free electrons that power the rest of the process, ultimately creating sugar molecules.
Two members, co-lead author and senior scientist Vittal Yachandra and co-first author and postdoctoral researcher Philipp Simon, talked about their latest milestones, shooting stuff with lasers, and why they chose this field in a Q&A on the Berkeley Lab News Center.
Other study authors affiliated with the MBIB Division are Asmit Bhowmick, Ruchira Chatterjee, Louise Lassalle, Margaret Doyle, Isabel Bogacz, In-Sik Kim, Sheraz Gul, Cindy C. Pham, Iris D. Young, Kyle D. Sutherlin, Aaron Brewster, Robert Bolotovsky, Derek Mendez, James Holton, Nigel Moriarty, Paul D. Adams, Nicholas Sauter, Jan Kern, and Junko Yano.