This summer the Biosciences Area welcomed interns ranging from high school through graduate school who came to our laboratories through different routes, many as part of programs dedicated to training the next generation of scientists. These internship programs include: Biotech Partners, Berkeley Lab Undergraduate Faculty Fellowship (BLUFF), Berkeley Lab Undergraduate Research (BLUR), UC Merced's California Alliance for Minority Participation (CAMP), The National GEM Consortium, Mickey Leland Energy Fellowship (MLEF), SOAR for Youth and Science Undergraduate Laboratory Internship (SULI). We also hosted the Introductory College Level Experience in Microbiology (iCLEM) summer research experience at JBEI.
Some of our interns took time from their busy summer to share with us highlights of their experience in the Biosciences Area.
Akshay Paropkari, University of California, Merced, CAMP
Mentor: Jessica Jarett, JGI
"My experience at JGI has exposed me to the wonderful work all scientists do here. It is motivating to be surrounded by passionate scientists working on interdisciplinary projects. I feel inspired to pursue a career in STEM.
The openness and helpfulness of people working at JGI. Everyone is so happy to know you and provide all resources to excel in your project. Not just PIs, but my interactions with post-docs have been a tremendous learning opportunity."
Amanda Wong, rising senior at Saint Mary's College of California, BLUFF
Mentors: Gary Karpen and Jim Pesavento, BSE
"My summer internship at a Biosciences lab has confirmed my desire to pursue a graduate education, and obtain a PhD in the biological sciences, particularly biochemistry and molecular biology. I have been able to learn a variety of techniques and skill sets that have not only progressed my research, but also have learned methods of troubleshooting when I am faced with unexpected results. I have gained more self-confidence necessary for being a graduate student. I love being able to meet other great scientists in my field, learning from them, and hearing all about their career paths. I love being able to perform my research at a true lab setting outside of my undergraduate institution and being able to apply what I have learned from other members of my lab to enhance my own research project."
Arielle Soomi Yoo, rising junior, University of California San Diego
Mentor: Kjiersten Fagnan, JGI
"I have gained valuable knowledge about data management that I wouldn't have had access to without JGI. JGI helped me see the amazing things people in my field of interest accomplish and how important proper data organization is for published papers. In the future I hope to learn more about bioinformatics and continue to solidify my interest in STEM.
My favorite thing about my JGI internship is the people. My mentors have been super encouraging while guiding me through tasks, and I also appreciate all the speakers that explain what fascinating research they have been working on. Everyone helps support the friendly work environment and makes it such a pleasure to be here!"
Brenda Wang, rising junior at UC Berkeley, BLUR
Mentors: Thomas Eng and Aindrila Mukhopadhyay, BSE
"This internship has made me feel more confident in my plan to pursue a STEM career. The projects I am involved in are captivating and I've already learned so many new skills. Everyone, especially my mentors, have been supportive and encouraging. One of my favorite things about this internship is participating in an interdisciplinary project because I get to learn about several different topics and see how they are connected."
Jon Cardoza, senior at Silver Oak Montessori, SOAR for Youth
Mentors: Corie Ralston and Paul Adams, MBIB
"This summer internship has given me problem solving skills, job experience and an understanding of different types of science. I've enjoyed getting new experiences, and learning new topics and potential STEM related jobs".
José Liquet Gonzalez, 3rd year Ph.D. student at the University of Tennessee-Knoxville, GEM
Mentor: Steve Singer, BSE
"This summer internship has given me the possibility to learn new techniques and pursue research in bioenergy; a field I am passionate about. One of my favorite things about the internship so far is the new network of colleagues I have had the pleasure of working with."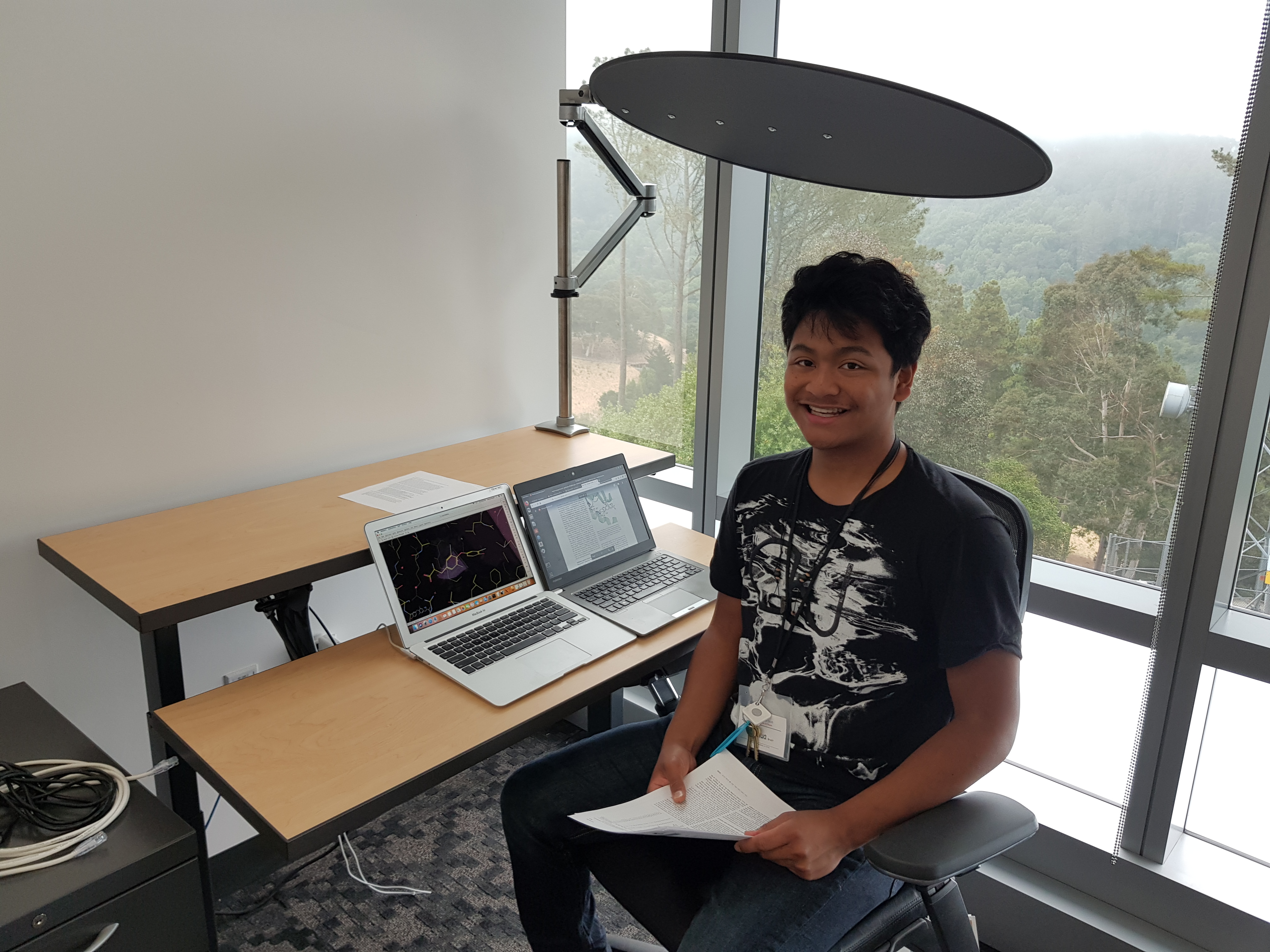 Joshua Brodit, incoming freshman at Diablo Valley College, SOAR for Youth
Mentors: Nigel Moriarty and Paul Adams, MBIB
"This internship has allowed me to dive into areas of science that I previously had no experience in and has also exposed me to skills needed in my intended career in the math field such as programming and research analysis. Such an opportunity enriches my passion for understanding the important links mathematics has with science and gives me insight into the mechanics of research projects and the importance of collaborative work. My favorite part about doing this internship is learning about the chemistry of organic structures and utilizing computer software to analyze proteins. It is so amazing to see how science is multifaceted network."
Katie Stephens, rising senior at UC Davis, BLUR
Mentors: Deepika Awasthi and Steven Singer, BSE
"This summer internship has reassured my excitement for studying Biological Engineering and has made me decide to pursue graduate school after completing my bachelors degree at UC Davis. My favorite thing about my internship is that I was able to be trained in many lab procedures and techniques that I had only read about in classes prior to coming to JBEI. It was also really cool to be able to meet researchers here and learn about their new innovations or ideas to address America's pollution and energy problems."
Katie Whiting, rising senior at Saint Mary's College of California
Mentor: Trent Northen, JGI
"I've known for a while that I want to pursue a career in STEM, but my internship at JGI has given me the chance to see what a career in STEM can look like outside of a college/university setting, experience with methodologies for research not available at my university, and the chance to discuss how to navigate graduate school with scientists who have already gone through PhD programs.
My favorite thing about JGI is the collaborative process of research that is done by the scientists, and getting to be a part of that collaborative network when it comes to the work I have been doing."
Lexi Hudson, rising senior at Antioch High School, Biotech Partners
Mentor: Kathleen Lail, JGI
"I planned to go into forensics before I started this internship and now that I'm in my mid-internship stages where I'm doing more things in the lab, I find myself being even more driven than I was before to enter a field related to biotech.
Although I've only been here for 3 weeks I've found that I not only love working in the labs here but that I thoroughly enjoy the people and community that JGI has. When I originally came here I wasn't expecting such a close knit community that always has little events planned so that all the staff here can interact with each other."
L
indsay Piette, rising senior at the University of Washington, SULI
Mentor: Megan Garber and Aindrila Mukhopadhyay, BSE
"This internship has reinforced my love for science and discovering new things! It makes me want to pursue a career in research and go onto graduate school like the people I work with here have. I really like applying the ideas and techniques I've learned in college classes to real experiments and research."
M
ichael Pimwong, rising senior at Antioch High School, Biotech Partners
Mentor: Virginia Markham, JGI
"By participating in this summer internship, I now have experience in a scientific career. I know the real hardships of a scientific background and career. This however, gave me hope that a STEM career is in reach and accessible.
My favorite thing about JGI is the open and friendly community. I've been to other scientific facilities and I have not seen employees that are as friendly and happy than those at JGI."
Mitzy Rubio, rising senior at Berkeley High School, Biotech Partners
Mentor: Bill Fisher, BSE
"My plan has been to go to med school or nursing school since I was a freshman in high school. For this reason I don't believe my internship has made me want to pursue a career in the STEM field, however, I really enjoy my internship and how many new interesting things I have learned about the fly genome and just about the Drosophila Melanogaster which is a type of fly. My favorite thing is bleaching the flies in order to remove the first membrane, I find it very interesting and simply a fun procedure to do. However I also really enjoy making fly cages due to the fact that they're really interesting although it could get hard to get all the flies in the cages."
Sebastian Johnson, rising senior at Berkeley High School, Biotech Partners
Mentor: Kate (Chin) Thi and Jamie Acosta, BSE
"The internship has provided me the opportunity to see the day to day operations of an academic laboratory and reinforced his plans to pursue a STEM career. I have had the opportunity to have many conversations about career opportunities across the STEM field with members of the Bissell laboratory. Such conversations have provided helpful insights for future career decisions in the field. I've enjoyed the entire internship. I like microscopy in the lab. I also appreciates lectures and meetings that present larger projects in context."
Sheevah Amen, rising junior at Virginia State University, BLUR
Mentors: Gary Andersen and Eric Dubinsky, EGSB
"My summer internship in the Biosciences area has influenced my decision to pursue research as an M.D. in a teaching hospital. My favorite thing about my internship is my placement with such nice and genuinely caring mentors."
Vicente Ramirez, 3rd year in the Public Health PhD program, UC Merced, CAMP
Mentor: Albert Wu, JGI
"This summer internship has already began to broaden skills and understandings
in the field of genomics. I think this has reinforced my goal to pursue a career in the field.
My favorite things about the internship are: first, the people here are awesome. I have not had one bad experience since stepping onto the JGI. Everyone here is so nice and willing to help. The second is the training that I am receiving. The mentorship I am receiving at JGI is giving me training that I am sure will benefit me for my entire career."